Waste Management Software Benefits
Configure weight at each collection point as per your requirement.
Multiple waste bin or trolley can be collected from each collection point.
Double skip vehicle have 2 collection points and single skip have only one collection point in a trip.
Every vehicle can take multiple trips on a single shift.
Each trip ends once a vehicle collects maximum load from its collection points.
Shift hours are configurable to any time slot of your choice.
Waiting time at each collection point can be configured.This time would be added to trip time during auto-routing calculation.
Auto-routing will be carried out based on the vehicle type.
Auto-routing works based on the starting point of a vehicle.
Considering the weight capacity of a vehicle, auto routing provides the best route tocover maximum distance and collection points.
Different types of vehicles such as skips, compactors etccan be configured on auto-routing with their distinct parameters (single collection point, multiple collection points, etc).
Loading time for various bins can configured with the system.
Based on the vehicle type, landfills can be assigned for better optimization.
Waste Management System Working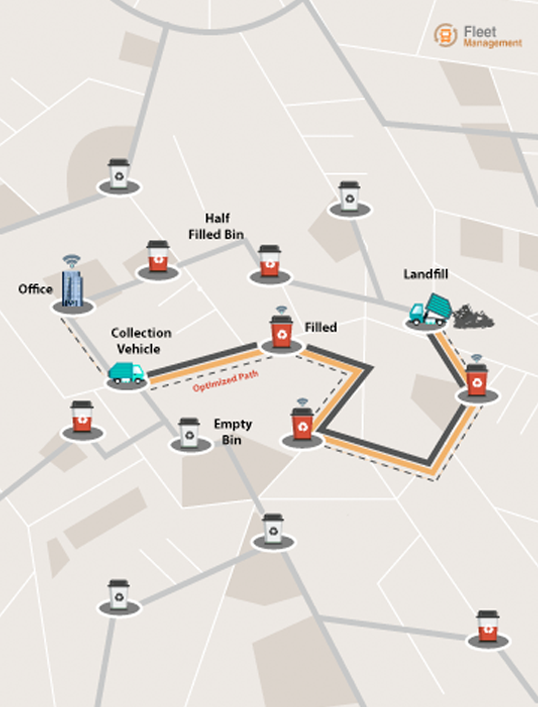 Our waste management system aims at optimizing the end to end waste management fleet operation.
Each of the waste bins (skips) is fitted with a senso
When the bin is filled with trash, the sensor sends a signal to the command centre
Analysing the signal points, system recommend an optimized route map based on the type of bins, route, vehicle and appropriate landfill.
Available vehicle is then sent to the location to pick-up that particular waste bin in the case of single skip or double skip trucks.
In case of compactors, which can cover multiple waste collection points in one trip, Route Optimization takes place. The system finds the most efficient route to cover all the collection points.
In case you have multiple vehicles, our waste management system can help in the selection of appropriate vehicle for the estimated routes.
Another method of operation is by keeping a prefixed frequency of trip it enables to create a proactive duty roster to follow.
There are multiple methods of operation you a fleet manager can depend on. Apart from which the manager can also get valuable data such as running times, driver behaviour, trip start and end times, Stops in general and stops at landfills.
Interested in our Waste Management Software?
Contact Us
Types of Vehicles
Our Waste management software is advanced software utilizing complex in-house developed algorithms to find the best solutions for all possible scenarios with different vehicles. Your fleet would be using either a single type or multiple types of vehicles such as compactors, mini-compactors, skip loaders, skip trucks, roll on and roll off trucks. According to the type of vehicle in use, the system provides solutions specific to that vehicle's operation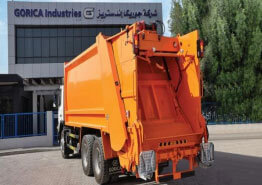 Compactor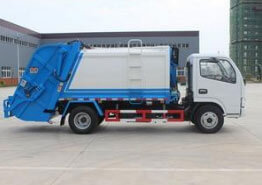 Mini compactor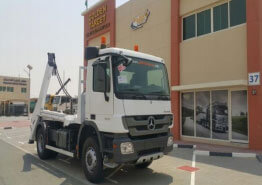 Skip Loader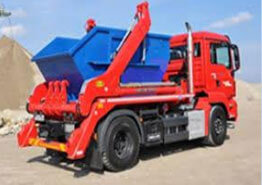 Skip Truck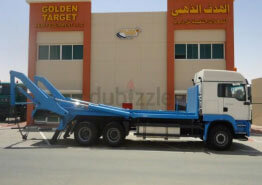 Double Skip Truck
Roll On and roll Off Truck
Difference between Skip Loaders
and Compactors
In Approach
| | Approach for optimizing skip loader routes | Approach for optimizing Compactor routes |
| --- | --- | --- |
| Frequency of waste pickup | Single collection point. | Multiple collection point. |
| Trip objective | Cover multiple trips in a shift. | Achieve maximum waste pickup in less number of stops to save time and effort. |
| Traffic conditions in that area | Route optimization with traffic trends. | Route optimization with traffic trends. |
| Special usage | Nearby route optimization for double skip. | Special route plan for Mini compactorwhere access roads are smaller |
In Working Process
| Optimizing skip loader routes | Optimizing Compactor routes |
| --- | --- |
| Skips get almost filled. | Trolleys get filled and send signals. |
| Signal sends to command centre. | System collects the number of trolleys to be clears on the route. |
| System analyse the most favourable time for the pickup | Formulate a priority list of bin points to set the route and frequency. |
| Fixing the most optimized trip schedule to the driver. | Finding the shortest route that covers maximum bin points in a trip. |
| For double skip loader the trips are scheduling based on the proximity of filled skips and their location. | Employing Compactors enabled with geo-fencing to avoid repeated bin visit. |
| | Mini-compactors would be assigned based on the route accessibility and bin filling frequency across narrow roads where compactors can't reach. |
Features
Route Optimization :

With sensor-fitted waste bins in place, the system gets information on the collection points. Vehicle details and route details are also made available to the system. Using this data, our intelligent waste management system predicts the most efficient routes for each trip with the help of in-house developed algorithms.Analysing the type of bins, the capacity of the vehicle and adequate time for the trips, our system helps to optimize routes and reduce the consumption of time, resources and effort.You can access trip logs and cross check if drivers adhere to the estimated trip duration and thereby take necessary steps to improve operational efficiency.
Route Managemen
Trip and Time Management
Waste Bin Management
Weather Notification
Landfill Management
Route planner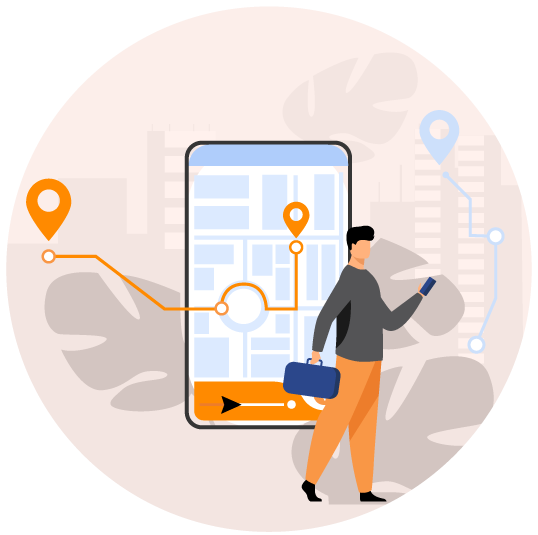 Fleet Tracking :

Real-time monitoring helps the fleet managers to assure that the fleets are moving on the right path. With geofencing data, it gives timely notification to both the drivers and managers about any mismatches happening against the plan. Over the trips, there may incidents can occur that can take the plans off the roads. Hence, during such situations managers can reach to the drivers of the particular vehicle and take appropriate actions. It further permits the fleet manager to monitor the driving behaviour and traffic trends from a single point. Also, the times spent at each bin points can also be traced by GPS tracking systems.
Vehicle Tracing
Capacity Optimization
Route Tracking
Driver Behavior Analysis
Geofencing
Incident Report
Driver Ranking
Trip Optimization :

Though the waste management system supplies transparent operational data real-time, it gives out a comprehensive trip report at the end of the day. From the very moment, the driver turns the key to the moment the driver ends the shift can be visible on the report. The daily trip report tells the whole story of the vehicles for the day. Including the driver details, the trips, the frequency and the routes, the works hours and the break moments, loading time and traffic jams it provides an account of each second that the vehicles performed on the trips.
Daily Activity Report
Driver Management
Capability optimization
Shift Management
TripFrequency
Vehicle Capability management
Trip History and Play Back
Multiple User Accounts
Loading Time Configuration
Trip expense tracking
Custom Bin Registration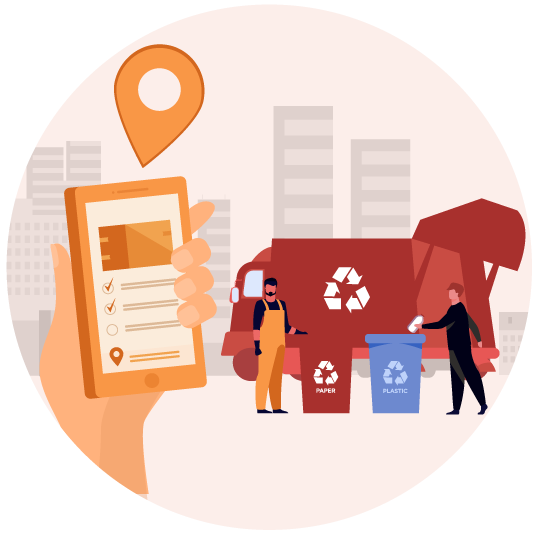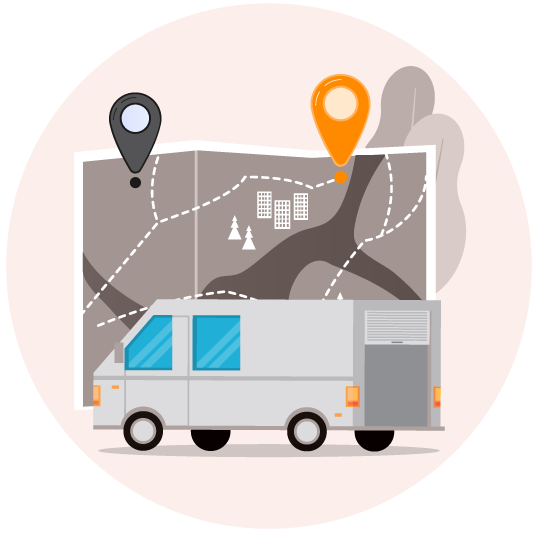 Vehicle management :
Employing a waste management system is not just about easing out the tasks, it is more about optimizing time and equally expenses involved in the process. Optimizing an effective route map and deploying adequate number of vehicles can save an exuberant amount of unnecessary expenses that we were splashing back then. Optimizing time is all about utilizing the resources productively. Thereby, the organizations can shorten the number of irrelevant vehicles and staffs for waste management solutions. Hence, the waste management system not only assures a cost-effective waste management cycle but also ensure it works productively.
Depot Management
Preventive Maintenance
Parking Management
Driver Console
Accessibility Control
Duty Calendar
Alert and Notifications
Driver Management :

The simple, intuitive user interface is designed to help you see exactly what you need to focus on.As a team member you can focus on your work and as a team leader, you can easily manage your team.The system formulates the duty calendar for every shift in accordance with the per-day duty hours. The exclusive driver console allows drivers to find the assigned trip, vehicle and route every day. Further, the system informs the driver and command centre of any mismatches form the assigned route plan.
Duty Calendar
Drivershifts
Drivershifts
Accessibility Control
Incident Reporting
Important Hardware involved
Who Can Use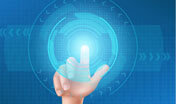 Sensors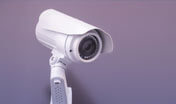 CCTV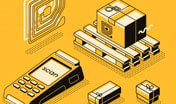 RFID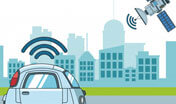 GSP Trackers
Municipality/Corporations/ Government organizations
Facility Management Companies
Waste Collection Vehicle Owners